The UK government has given Amazon permission to trial new, more extensive methods for testing drones.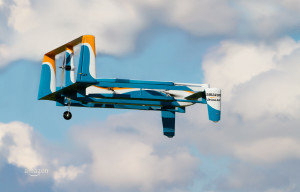 A cross-government team, alongside the Civil Aviation Authority (CAA) has given the online retailer permission to explore 'beyond line of sight operations in rural and suburban areas, testing sensor performance to make sure the drones can identify and avoid obstacles, and flights where one person operates multiple highly-automated drones.'
Amazon said its partnership with the UK government would 'explore the steps needed to make the delivery of parcels by small drones a reality'.
"The UK is a leader in enabling drone innovation – we've been investing in Prime Air research and development here for quite some time," said Paul Misener, Amazon's vice president of global innovation policy and communications.
"This announcement strengthens our partnership with the UK and brings Amazon closer to our goal of using drones to safely deliver parcels in 30 minutes to customers in the UK and elsewhere around the world.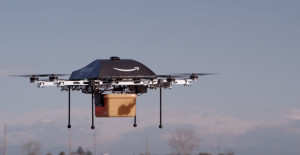 "Using small drones for the delivery of parcels will improve customer experience, create new jobs in a rapidly growing industry, and pioneer new sustainable delivery methods to meet future demand
"The UK is charting a path forward for drone technology that will benefit consumers, industry and society."
The CAA will be involved in the testing, and examine the potential for safe use of the devices beyond the line of sight.
Tim Johnson, CAA policy director, said: "We want to enable the innovation that arises from the development of drone technology by safely integrating drones into the overall aviation system. These tests by Amazon will help inform our policy and future approach."
COMMENT:
Kewill
"Drone delivery for the UK means that for once, rural areas may have an advantage. Traditionally, rural and suburban parts of the country are slow to receive services like same day delivery or super-fast broadband. But the use of drones is actually much more feasible outside of cities, as collision avoidance will be a much less daunting challenge for the devices than in built-up urban areas.
"Regardless of the delivery destination, their introduction could cause a supply chain and logistics nightmare if companies are not careful. Many organisations still rely on outdated legacy processes which would make the incorporation of drone delivery a very steep learning curve.
"Drone delivery also throws up questions about redefining traditional supply chain routes. For example, how will goods reach the supplier from the manufacturing line? Not only that, but drones will inundate organisations with a huge amount of real-time data not previously available.
"In order to simplify the process, organisations need to ensure they have transport management systems in place that can automate logistical pain points (setting package weight limits, for example, or ensuring drones deliver safely to challenging destinations) rather than inputting each detail individually. Tighter integration between systems will also enable businesses to manage all the new data being delivered.
"Drone delivery is a key step forward for our new and exciting connected world – but organisations need flexibility and scalability in their supply chain in order to be prepared for innovative delivery methods of the future."
Jim Hoefflin, president and COO of Kewill
Tom Tom
"Amazon testing drones for its deliveries will be a step forward for home deliveries. But it's not going to overtake the whole industry. Drones will have their role to play, but they won't replace delivery companies who embrace connected mobility. Drones can quickly deploy small packages, but they can't enter buildings and there will be instances where they can't complete certain deliveries. The connected touch of a person in a delivery vehicle will still be needed. But they need to have data at their fingertips: routing, traffic and schedule information as well as customer preferences, completion forms and escalation procedures.
"We need convergence across all approaches to provide the best and most personalised experience for customers. We're starting to see companies with smart devices send real-time alerts to their drivers. They can pinpoint a vehicle's location and status, re-route it and update its schedules remotely and in real time."
Sebastien Ruffino, VP B2B Products at TomTom.