Delivery times in manufacturing supply chains are at their lowest level since records began, as output in the sector slumped in March – impeded by measures to curb the spread of COVID-19.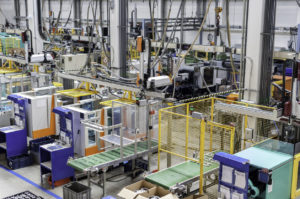 According to the IHS Markit/CIPS Purchasing Managers' Index for March vendor delivery times to UK manufacturers lengthened to the greatest extent in the 28-year history of the survey.
It cited reports of input shortages, transport disruption and delays in receiving goods from overseas. International shipping and border delays were also mentioned.
Rob Dobson, director at IHS Markit, said that UK manufacturer output and new orders fell at the fastest rate since mid- 2012, while the resulting job losses at the highest levels since July 2009.
"The effects were felt across most of manufacturing," said Dobson of the impact of COVID-19 on the sector, "with output falling sharply in all major sectors except food production and pharmaceuticals. The transport sector, which includes already-beleaguered car-makers, suffered the steepest downturn.
"With restrictions aimed at slowing the spread of the virus expected to stay in place for some time, expectations of further economic disruption and uncertainty meant business optimism slumped to a series-record low. However, on a slightly more positive note, manufacturers still expect to see output higher in one year's time."
Find out more on Logistics Manager
Automotive suppliers 'very concerned' over supply chain visibility impact of COVID-19
JCB joins call to action for ventilator shortage
SMMT calls for emergency finance to reach businesses in 'fastest time possible'
Purchasing activity was reduced during March, while holdings of pre- and post-production inventory also both decreased.
Duncan Brock, group director at the Chartered Institute of Procurement & Supply (CIPS), said: "Closed borders, significant shipping delays and a reluctance from clients to authorise new instructions resulted in the sharpest contraction in orders from domestic and overseas markets since 2012."
He said that business optimism had dropped to historical lows as manufacturers struggled to get essential raw materials, adding that some were able to stockpile to a limited extent before the opportunities vanished.
"With supplier delivery times at their worst for 28 years these fast-moving challenges affected every link in manufacturing supply chains and on an unprecedented scale," he said.
"With supply chains crumbling around the world, we can only expect a worsening outlook next month as increasingly necessary lockdown measures squeeze manufacturing production. Only creative and agile thinking, new products and approaches will see the sector through the turbulence ahead."