Sales of vans and light commercials were up 2.4% year-on-year with 365,778 new models hitting UK roads in 2019 – the third highest year on record according to the SMMT.
All van segments saw growth during 2019, with small vans weighing less than 2 tonnes up 4.4% (to 26,162 units), medium vans weighing 2 tonnes to 2.5 tonnes up 10.5% (to 56,282 units) and larger vans weighing 2.5 tonnes to 3.5 tonnes up 1.2% (to 228,659 units).
SMMT chief executive Mike Hawes said: "As we enter a new decade, we need this upward trend to continue if we are to address environmental concerns. The quicker these new vehicles become commonplace, the quicker their positive impact on air quality and climate change will be felt.
"Manufacturers will continue to invest in new, cleaner technologies but, ultimately, it is businesses that will determine the pace of change. Business positivity is essential to give companies the confidence to invest in their fleets," he added.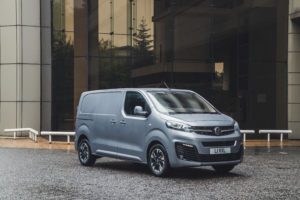 For all vans below 3.5 tonnes Ford took 32.1% market share, down from 35.3% in 2018, while Volkswagen too 11.6% market share (down from 11.8%) and Mercedes stood in third-place at 20.1% (up from 9% in 2019).
Vauxhall ended 2019 with a 27% per cent increase in sales volumes boosting its van market share by two percentage points to 9.8%.
It said that over one-million Vivaros (pictured) had now been built at Vauxhall's Luton plant.