UPS is to increase the number of electric vehicles operating from its London depot from 50 to 70.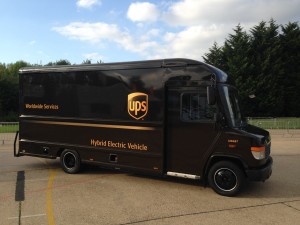 The site will eventually run more than 150 electric vehicles. The business was given £3 million funding from Innovate UK to help improve the capital's air quality.
The logistics company will use its Camden depot as a testbed for reducing the cost of charging freight electric vehicles.
UK Power Networks will be working alongside UPS to bring down the costs of significant upgrades need to add capacity to existing power supply.
"UPS has a long heritage of deploying more sustainable alternative fuels and advanced technology – reducing its carbon footprint and progressing its green strategy," says Peter Harris, director of sustainability, UPS Europe. "Electric vehicles are a major component within our alternative fuel fleet and this partnership with UK Power Networks has the potential to transform the way we charge our electric vehicles in London. If successful, it will almost certainly be a key enabler for UPS to electrify its other fleets in the UK and beyond.
Tobi Babalola of the UK Power Networks innovation team said: "This project is going to lead the way for improving London's air quality by helping to get more low emission vehicles onto our roads at lower cost. It will deliver insights that will inform the entire electricity industry at a key moment for electric vehicle technology."