Volkswagen has opened a 40,000 sq m packaging centre in at Wilhelmshaven in Germany, which is managed by Imperial Logistics.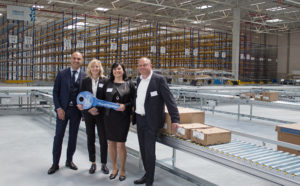 Astrid Lühring, member of the management board of Volkswagen Group Logistics, said: "With the integration of the packaging centre in Wilhelmshaven, we have optimized our supply network and so reduced logistics costs for the supply of our overseas plants. During the tender process, Imperial Logistics provided a convincing materials flow concept, among other things."
The automated facility at JadeWeserPort in Wilhelmshaven took nine months to complete. It comprises four halls, and will receive around 7,000 different Audi, Volkswagen and Volkswagen Commercial Vehicles parts lines from plants throughout Europe; these will then be stored, picked, packed and containerised for shipment.
Outbound shipments will be despatched to more than 30 locations in 13 countries including Mexico, China and the United States. Annual output is expected to exceed 11,000 40ft high cube containers (22,000 TEU).
Thomas Zernechel, Head of Volkswagen Group Logistics, added: "The choice of Wilhelmshaven as location is of strategic importance for Volkswagen Group. JadeWeserPort is the only deep-water port in Germany. With the location of the packaging site we have a direct link to a port, through which our parts can be transported using the largest vessels in the world."
Imperial Logistics provides logistics support to Volkswagen Group at ten other locations in Germany, Poland, Hungary and South Africa, employing a combined workforce of 3,600.