The latest technology revolutionising warehousing and supply chains will be a key area of focus at the 2019 IntraLogisteX exhibition and conference taking place at the Ricoh Arena, Coventry on Tuesday 26th and Wednesday 27th February.
The conference will be a platform for experts to share their knowledge of how visitors can utilise the latest technology to ensure they remain competitive and their operations are prepared for the fast growth and widespread adoption of this area of technology.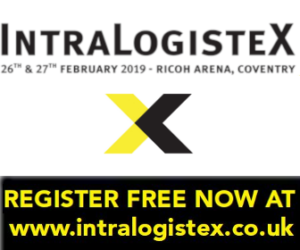 Some of the topics covered in the conference agenda will be the challenges businesses face and how automation can help overcome them, how these solutions can reduce costs whilst increasing productivity and the importance to businesses of all sizes of adopting automation in their warehouse.
As well as suppliers sharing their expertise, end-users such as HelloFresh, will be giving visitors their experience of moving from a manual process to an automated system, how this was achieved as well as the benefits of this new way of working.
The IntraLogisteX exhibition offers visitors the opportunity to meet and chat to suppliers of the latest technology to explore the ways in which these solutions could be applied to their business and meet their unique needs. With technology constantly evolving, end-users will have an opportunity to see the latest product launches and keep on top of the solutions available to them to ensure they remain competitive in a rapidly changing market.
Registration is completely free at www.intralogistex.co.uk and offers fast-track entry to the exhibition.