Winners of the prestigious Supply Chain Excellence Awards were overjoyed and honoured to have been recognised by the judges as leaders in their fields and projects.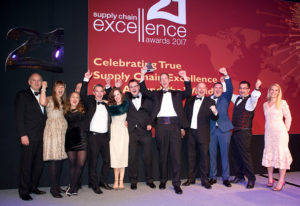 Severn Trent, winner of the Overall Winner Award, and the Public and Third Sectors trophy described the win as "amazing", "awesome" and "absolutely incredible".
"[The win is] absolutely amazing, it's an honour to be here, let alone winning an award. So we couldn't thank the judges enough, it's a great honour."
"A huge amount of hard work has gone into it, so just really, really proud of what everyone has done. Amazing achievement," said Chris Wand, Severn Trent.
" [The key was] teamwork, communication and teamwork, pulling together at times of strain and supporting one another through the difficult periods, that's what's made it key and brought us here tonight."
Lancashire Teaching Hospitals NHS Trust with Ingenica Solutions were "blown away" by the Award results when they won the Sourcing and Procurement category: "Absolutely amazing, a lot of hard work gone in from Ian and his team, and supported by more team. And I think it's just amazing to win. Big team effort," said Nicola Hall, Ingenica Solutions. "Collaboration between the trust and willingness to change. Just to make savings for the NHS I think is fantastic. Just to have worked with the guys there, great bunch of guys there."
Euro Car Parts took home the trophy for Automotive. The team were very pleased with their achievement: "Unbelievable really – first time we've entered this award, or anything similar. We weren't sure if we had a decent chance against the competition, but we're really, really, really pleased to win," said Ben Baldwin. "It was difficult when we made the submission, we think what we are doing in our business and industry is quite special, but you're never quite sure. But obviously the panel has recognised what it is we're doing and see that that is quite cutting edge."
There was also a great response to the event on social media throughout the night:
Great to see Centrica pick up another great award in procurement excellence #scea2017 @centricaplc pic.twitter.com/d94mdXBQNZ

— Darryl M Abraham (@DarrylMAbraham) November 14, 2017
We are delighted to have won the Innovation in Supply Chain award with Centrica #scea17 pic.twitter.com/7UUYOePQMp

— Unipart Logistics (@UnipartLogistic) November 14, 2017
.@DHLsupplychain are proud winners of the #ESCEA17 Environmental Improvement award with @Gatwick_Airport 🤩 https://t.co/HSEaR9CrSu

— DHL Supply Chain (@DHLsupplychain) November 15, 2017
Great company! Great evening!! – Thanks for organising @SCE_Awards #SCEA17 #Proud – Good luck everyone! pic.twitter.com/t8v3CqtGih

— Ingenica Solutions (@IngenicaS) November 14, 2017
Well done to everyone – especially our members – for their fantastic wins across all categories .@SCE_Awards #scea17

— UKWA (@UKWarehouse) November 15, 2017
Fantastic news – we won the Innovation in Supply Chain Award. Well done to everyone involved #scea17 pic.twitter.com/mviZ7cNrBX

— Unipart Logistics (@UnipartLogistic) November 14, 2017
Tried to change the supply chain industry from the inside but there's so many barriers. Will always champion female talent in operations. #scea17 pic.twitter.com/b9TKlswP6I

— Rebecca Morley (@rebeccanmorley) November 14, 2017
Delighted to win Technology award with client @palmerandharvey at @SCE_Awards last night. Congratulations to all winners and finalists. #SCEA17 https://t.co/Y2Mbrula90

— Civica Transport (@CivicaTransport) November 15, 2017
Awards night for Team Argos & DHL! #scea17 @sce_awards pic.twitter.com/DQ6flTr0z4

— Greg Bacon (@gxbacon) November 15, 2017
We're over the moon to win Team of the Year with @hatmillogistics at the @SCE_Awards last night! Photo coming soon!… #scea17 #logistics #lifeatYPO😀🏆🚛🎉 https://t.co/aYPN7cpwgU

— YPO (@ypoinfo) November 15, 2017