Wolseley, the distributor of plumbing and heating products, has set out a £100 million "UK turnaround and repositioning" plan that could involve the closure of a distribution centre and 80 branches.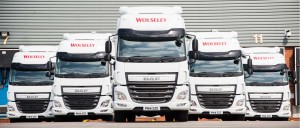 Group chief executive John Martin said: "Our review of UK operational strategy has identified opportunities to transform our customer propositions while simplifying our branch network and supporting logistics facilities to greatly improve service levels, drive availability and choice for customers and generate better returns for shareholders. Regrettably this will result in job losses which we will handle sensitively and minimise through redeployment and attrition as far as possible."
The group's results for the year to 31st July show an 18 per cent fall in UK trading profit to £74 million despite a marginal increase in turnover to £2 billion.
It said the UK heating market had been relatively flat and the competitive landscape had been very challenging. "The closure of around 80 branches and one distribution centre is expected to lead to up to 800 job losses, the impact of which we will minimise through redeployment and attrition as far as possible."
Wolseley UK currently has four regional distribution centres in Melmerby, Worcester, Milton Keynes, and Measham, backed by a national distribution centre at Royal Leamington Spa.
"Overall, the transformation will take two to three years and is expected to generate £25 million to £30 million of annualised cost savings when complete."
The plan is to move a new operating model with flexible delivery and collection times to suit customers' requirements.
"We will maintain an efficient logistics and supply chain network with high rates of product availability and choice, which our customers depend on. This will include creating new transport hub locations to deliver our products nationwide with consistently high standards of both branch replenishment stock and customer orders to meet demand. Efficiency savings will be generated from better stock management across the network."
It said the reorganisation of the logistics and supply chain network would result in lower overall capacity requirements in the UK supply chain.
"This will enable us to operate from three regional distribution centres in the UK instead of four which will significantly reduce our operating costs. On this basis, we propose to assess the feasibility of our Worcester DC as the changes in our plan are put in place. This means that whatever the outcome of the feasibility assessment, we believe that this part of our strategy will not impact roles or the number of roles until 2018."
The revamped branch network would consist of about 450 local branches and 80 larger destination branches.
Some 65 per cent of Wolseley's revenue is in the United States where it performed strongly. As a result, total group revenue was up 4.2 per cent to £14.4 billion while trading profit was up 1.6 per cent to £917m.