World's biggest containership delivered
The world's biggest container ship has been delivered by Samsung Heavy Industries to Mitsui OSK Line. The ship, called MOL Triumph, is the first of a fleet of six 20,000 TEU-class containerships for the company.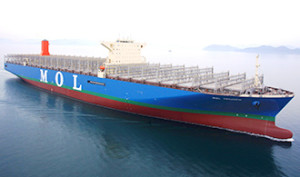 The ship is 400 metres in length and 58.8 metres in width, and has a capacity of 20,170 teu.
Junichiro Ikeda, president and chief executive of MOL said: "The MOL Group is honored to unveil this new vessel, which is the largest containership in the world. The vessel is equipped with various new sustainable technologies to provide more efficient fuel consumption and improved environmental performance."