In an exclusive, Logistics Manager can reveal the launch of Europe's most energy efficient electric forklift series – Yale's ERP15-20VT 3-wheel truck.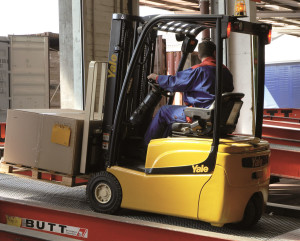 The replacement of an existing hydraulic service brake system with 'E-braking' has secured the series' position as market leader in energy efficiency. Yale has also introduced E-steering to its 3-wheel truck as an additional way to recycle energy.
The status has been backed by energy consumption figures based on the standard VDI 2198 60-cyle test.
Karen Calver, Yale product manager for electric counterbalance trucks said:
"With their energy efficiency and best-in-class manoeuvrability, these trucks have always helped customers to increase throughput and reduce the cost per pallet moved. Now their economy is even better and, in the case of the 3-wheel truck, officially unbeatable."