Yale has completed an engine alteration programme across its 2.0 to 3.5 tonne LPG counterbalance forklift truck range, in which true industrial engines have taken over from automotive-derived units.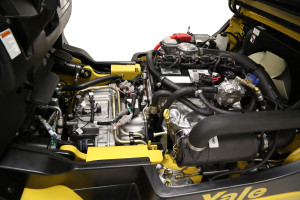 For the GLP20-35VX series, the GLP20-25LX, and the GLC20-35VX trucks, it has replaced the previous Mazda 2.2 litre engine with a 2.4 litre PSI (Power Solutions International) alternative.
"Compared to their automotive-derived equivalents, industrial engines in lift trucks are more powerful, fuel efficient, quiet, reliable and long-lasting. Much of this is down to the fact that they operate at lower RPM and this gives significantly more low-end torque – which is ideal in materials handling," said Matthew Allen, Yale solutions manager counterbalance product.
Measuring efficiency in terms of loads moved per kg of fuel used, Yale says the PSI 2.4 litre engine is 26 per cent better than the engine it has replaced in the GLP20-25LX series. By the same measure, the GLP20-35VX series (GLP25VX model) has improved by 24 per cent.