Panther Warehousing, the two person home delivery specialist, has taken delivery of 23 MAN TGX tractor units taking its fleet to 48 trucks.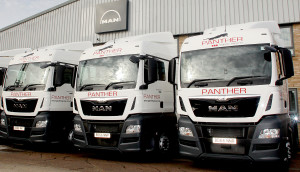 Panther chose the vehicles after fuel economy tests showed that it could save some £6,100 per unit per year. The vehicles will be double shifted.
The vehicles supplied are MAN TGX 26.440 6×2 XLX cab with Euro6 440hp engines and semi-automatic transmission. There are full fleet telematics and forward facing cameras fitted too.