Yorkshire based A-Safe, the polymer safety barrier manufacturer, has opened an Australian subsidiary – led by Mark Collins as director.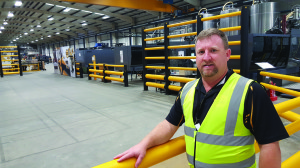 "Food, pharmaceutical and the warehousing/logistics markets are probably the big three safety-focused industries in Australia," said Collins. "Certainly, there is already large demand for world-class safety products – and the hygiene angle of A-SAFE products is a huge thing. Of course, there will be timing issues because my working day will start when it's evening in the UK – but that's nothing we can't overcome as a global company."
A-Safe also has offices in the UK, Germany, France, Italy, Scandinavia, Netherlands, Belgium, Spain and the USA.