Acumen Automotive Logistics is investing £750,000 in four new Scania tractor units taking its car transporter fleet to 50 trucks.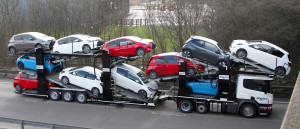 Managing director Chris Doughty said: "We ordered the Scania latest generation TE +11 Evo 8 transporter body and trailer as they are equipped with electronic start/stop which can be operated from three separate places. The prime mover has the latest designed top deck with new positions for cars 5 and 6. The new design enables a smoother transition allowing the driver to reverse cars up to the peak thereby enabling greater flexibility to configure and ease the loading in these positions."
The Scania are each equipped with six by two Euro 6 engine and automatic 12xspeed Opticruise gearbox. The trucks have full contract maintenance agreements with Scania and Hunwick Engineering the transporter manufacturers.