Amazon has revealed the 16 finalists in its third-annual Amazon Robotics Challenge which will award up to $250,000 in prizes.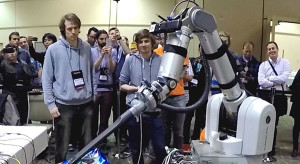 There is no team from the UK, but Australia, Germany, India, Israel, Japan, the Netherlands, Singapore, Spain, Taiwan and the United States are all represented.
The finals will be held in Nagoya in Japan on 27th July. Contestants will have to demonstrate their latest robotics hardware and software that can pick and stow items in storage.
The challenge involves object recognition, pose recognition, grasp planning, compliant manipulation, motion planning, task planning, task execution, and error detection and recovery. The robots will be scored by how many items are successfully picked and stowed in a fixed amount of time. Winning teams will be awarded up to $250,000 in prizes.
"This challenge is an opportunity to strengthen the ties between the industrial and academic robotic communities and promote shared and open solutions to the technical challenges we face in unstructured automation," said Joey Durham, contest chairperson and manager of research and advanced development for Amazon Robotics.
The finalists are:
MC^2 – Mitsubishi, Chubu University, Chukyo University
NAIST-Panasonic – Nara Institute of Science and Technology, Panasonic
Team T2 – Tottori University, Toshiba
Team K – University of Tokyo
MIT-Princeton – Massachusetts Institute of Technology, Princeton University
Team Duke – Duke University
PLAID – Carnegie Mellon University
GMU-Negev – George Mason University, Ben-Gurion University of the Negev
ACRV – Queensland University of Technology
IITK-TCS – Indian Institute of Technology Kanpur, Tata Consultancy Services
TKU M-Bot – Tamkang University
Nanyang – Nanyang Technological University
NimbRo Picking – University of Bonn
UJI RobInLab – Jaume I University
Applied Robotics – Smart Robotics, University of Sydney
IFL PiRo – Karlsruhe Institute of Technology, Helmut Schmidt University