Belgian chemical logistics company APDO has had two Toyota FDF30 forklift trucks converted into explosion proof vehicles.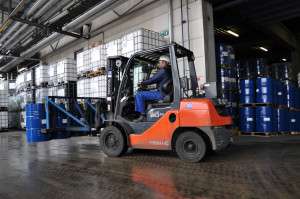 The trucks, which were adapted by explosion protection company Pyroban, feature Pyroban's system6000D – which inhibits explosions by 'combining gas detection with various explosion methods.' Included in the conversions are:
restricted breathing enclosures
stainless steel cladding for forks
surface temperature cooling to T4 (135°C) to ensure the engine, motors, brakes, electrics and other components remain below the auto-ignition temperatures of flammable materials.
There is also a Pelistor based gas detection system, which is able to detect hazards at ADPO's chemical warehouse in Antwerp. According to Pyroban, it 'auto-calibrates and self-tests at start up to ensure it is working correctly and the whole solution is certified with gas groups IIA and IIB.'
"Safety is the number one priority across our three sites in Antwerp," said Karel Stoop of ADPO. "With such significant volumes of flammable material being stored and handled, we operate with the highest environmental, safety and health regulations without compromise, which is why we use Pyroban explosion protected forklifts."
"The trucks are handling many different flammable chemicals in sealed containers, so a flammable atmosphere is not expected unless by accident," said Pyroban's Eelco Huisinga.
"However, each solvent or chemical liquid has a different characteristic so we have to make sure the protection covers all potential flashpoints and temperature classes."