arvato has chosen Conveyor Systems (CSL) to deliver its packaging and sortation system. The 3PL required a partner that was able to deliver a system that could 'help to effectively manage seasonal sales peaks in demand'.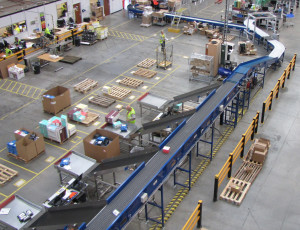 CSL's conveyor system is able to handle over 60 packages every minute of different sizes, weights and types.
The system has a number of key features including: Zero Line Accumulation (ZLP) non-contact queuing roller conveyor prior to merging both packing lines, state-of-the-art fibre optic sensors to detect the smallest of Jiffy bags of only 15mm high and modular plastic topped conveyors on the bends to eliminate as many transfer points as possible.