Aston Martin is to build its new crossover vehicle at St Athan, a former RAF base a few miles west of Cardiff.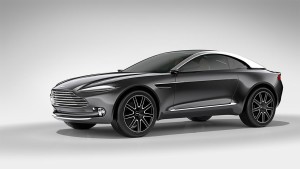 The move is part of the manufacturers expansion plan. In August last year the company opened a 250,000 sq ft logistics centre at Wellesbourne to function as a centralised warehouse for supplier deliveries.
Keith Stanton, Aston Martin manufacturing operations director, said at the time: "Ensuring we have the right materials in the right place at the right time is, of course, fundamental to our manufacturing process. As the volume and complexity of our operations increases in the months and years ahead, we will be relying on the team at Wellesbourne to help us deliver our exciting new generation of Aston Martin sports cars."
Production of the new vehicle is due to start in 2020. Aston Martin expects 90 per cent of the production from St Athan to be exported. The vehicle will be based on the DBX Concept car shown at last year's Geneva and Shanghai motor shows. It is a luxury GT crossover vehicle capable of carrying four adults and their luggage.
The company also plans to start production of the all-electric RapidE at its existing factory at Gaydon in 2018.
It anticipates that up to 1,000 new jobs will be created across St Athan and Gaydon between now and 2020. Across the supply chain and local businesses, a further 3,000 jobs will likely be created as a direct result of these investments.
CEO Andrew Palmer said: "Through a detailed evaluation of over 20 potential global locations for this new manufacturing facility, we were consistently impressed with the focus on quality, cost and speed from the Welsh Government team. As a great British company, we look forward to St Athan joining Gaydon as our second centre of hand-crafted manufacturing excellence."
The St Athan site occupies some 90 acres. Aston Martin will re-purpose some of the facilities currently in use at the site by the Ministry of Defence. Centered on the transformation of the three existing 'super-hangers' at MOD St Athan, construction work is planned to commence in 2017 with full vehicle production commencing in 2020.
Prime minister David Cameron said: "Aston Martin is an iconic British brand and the decision to invest here shows real confidence in our economy. With our economic strengths and easy access to European markets, the UK automotive sector is thriving. It is one of the biggest in Europe – and the most productive – and Aston's creation of up to 1,000 new jobs in Wales and the West Midlands is welcome news."
Aston Martin is also gearing up to start production of the new DB11, the replacement for the DB9. Production is due to start in the autumn at Gaydon. It will be the first car to be launched under the company's Second Century plan.
Over the course of the next five years, the company will both replace and expand its entire sports car portfolio. Starting with DB11, sports car manufacturing will be centred at Gaydon with the facility progressively expanding production to a planned maximum volume of 7,000 sports cars a year by 2020.
In April last year, the company arranged additional committed funding of £200 million, to develop new its models.