Lancaster-based S J Bargh has acquired RG Bassett, the Stoke-on-Trent based haulier, for an undisclosed sum.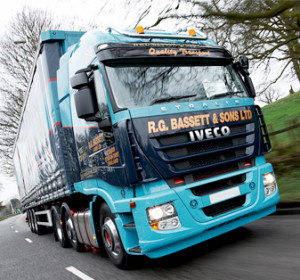 The acquisition will increase the group's general haulage and warehousing operations and add new driver and related training services. Bassett has an 11-acre site with 100 employees near Stoke-on-Trent. This site is close to existing and new S J Bargh sites with excellent links to the M6 and A50.
Bassetts will continue as a standalone brand focused on general haulage, while S J Bargh will retain its primary focus on specialised logistics, including milk collection and distribution, for clients including Arla Foods, Joseph Heler, and Müller Milk and Ingredients.
Bargh managing director Anthony Finlayson-Green said: "Our shareholders and board recognise Bassetts for their integrity, commitment to quality and operational excellence. We made this strategic step because there is tremendous synergy between our Companies and we are delighted Bassetts are joining the S J Bargh family. The customers of both companies will also benefit as together we offer greater scale with a larger team, more vehicles and warehousing, and a host of complementary services."
Claire Bassett, director of RG Bassett said: "As the owner directors at Bassetts neared their chosen retirement age a decision was made, after five generations stretching back to 1897, to join the S J Bargh family. We are delighted, because we know there is a very bright future ahead with S J Bargh, not least because they share our family values and complement our services. Laurence and I are members of our founding family and will remain within the business to ensure there is a smooth transition and continuity for our customers and employees."
The S J Bargh Group now comprise of 500+ employees across four key sites in the North West and Midlands with a fleet of 500+ vehicles and assets, along with 120,000 square feet of warehousing.