A crisis in the carbon dioxide supply chain is threatening national beer producers and, in turn, pubs especially as England fans are expected to buy 14 million extra pints during the World Cup, the British Beer & Pub Association has warned.
Several CO2 production sites have faced closure, due to various reasons such as maintenance and refurbishment, resulting in a carbon dioxide shortage in both mainland Europe and the UK.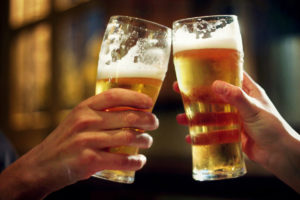 The shortage is also affecting soft drinks. "The shortage of CO2 across Northern Europe is impacting a wide range of businesses across the food and drink sector," said British Soft Drinks Association general director, Gavin Partington. "Soft drinks producers in the UK are taking active steps to maintain their service to customers including working with their suppliers to mitigate the impact as well as looking at alternative sources."
The British Beer and Pub Association warned that supply issues in the UK are further complicated due to planned plant shutdowns and unexpected equipment failure, in particular in connection with one of the two major national producers of bulk CO2.
It said that many smaller suppliers who distribute locally but who will be supplied in turn by the national producers will be most affected.
The BBPA has predicted that England fans will drink 14 million extra pints at the pub during the World Cup group stages as they support England's games, boosting the economy by as much as a £42 million.
"Millions of England fans will be going to the pub to cheer on the team with their friends, which is both great for the local pub and great for the England team," said BBPA chief executive Brigid Simmonds.
The increase in England supporters in pubs means that that HMRC could get an additional £6.3 million due to beer duty prices on top of VAT.
In the meantime, the BBPA recommends that members contact their supplier if they have any specific concerns as the shortage may last for the next few weeks and while they continue to contact those involved and reiterate the impact the crisis the situation in the hands of the producers themselves, said the BBPA.