Bid Corporation is considering its options for the disposal of Best Food Logistics, which hit the headlines in March 2018 when it won back a large part of the KFC contract it had previously lost to DHL.
The move comes as DHL Supply Chain has just revealed that it is ending its relationship with KFC after little more than a year.
Bidcorp, which is headquartered in South Africa, has been exiting low margin logistics activities globally where they do not fit into its model for its foodservice businesses, according to the annual result for BFS Group Ltd, the UK subsidiary which includes Best Food Logistics.
BFS said in its results for the year to 30th June 2018: "By 30th June 2018, a proposed exit was close to finalisation for this non-core business."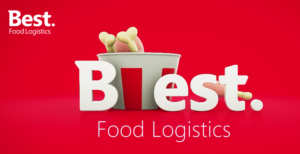 However, it said, the prospective purchaser of the Best Food Logistics business notified Bidcorp that it had decided not to proceed with the purchase of the business.
"The Best Foods business remains a non-core activity in respect of Bidcorp's global foodservice operations, and the intention is to dispose of this business. Accordingly, Bidcorp is currently considering alternative proposals which were previously suspended due to the advanced sale process."
In 2017, Best Food Logistics (then called Bidvest Logistics) lost its contract to deliver to 850 KFC outlets to DHL Supply Chain in partnership with QSL. But following well-publicised start-up delivery problems after the transfer of the business, in March last year KFC returned to Best Food Logistics to handle supply for 350 restaurants in the north of the UK.
The Bidcorp group decided to dispose of the Best Food Logistics business following disappointing results in 2017. In its annual report for 2017 it said: "Margins remained under pressure as QSR (quick service restaurant) deliveries fell below expectation and the business exited a major QSR account.
"Logistics remains a non-core activity and management remains committed to finding a viable solution for the future of the business."
Best Food Logistics is now treated as a discontinued business in BFS Group's accounts for the year to 30th June 2018.
In 2018, BFS reported an operating loss of £37.8 million for Discontinued Businesses on revenue of £1.1 billion. This compared to an operating loss in 2017 of £4.7m on revenue of £1.2 billion.
BFS's Continuing Operations produced an operating profit of £64.6m in 2018 on revenue of £1.4bn.
BFS also reported a non-cash impairment of £42.6m in the cost of investment in PCL 24/7 Transport Limited, after a second year of disappointing trading at the chilled distribution business. The impairment takes the net book value of the investment to nil.
In its report for the half year to 31st December 2018, Bidcorp said the performance of the UK Contract Distribution business (Best Food Logistics) significantly improved in the second half of 2018, though the business still recorded a small loss. "Service levels have improved and customer pricing has been substantially increased to more fully reflect the risk and reward of these activities."

DHL said it was ending its relationship with KFC for strategic reasons. A spokesperson said: "In accordance with its contractual arrangements, DHL Supply Chain has advised that it is ending its current relationship with KFC, with the business transitioning to the new provider over a defined period to ensure a seamless service to customers.
"Affected staff have been informed of the situation and will shortly enter into consultation with the company and their representatives to discuss their options, including transferring to the new provider under TUPE regulations or redeploying to other DHL operations as appropriate.
"However, DHL remains committed to Rugby as a strategic location and will make every effort in the coming months to secure a new customer for the warehouse.
"Both DHL and KFC thank staff for their understanding at this time and stress that the decision has been made entirely for strategic reasons and in no way reflects on the performance of the Rugby operation which has achieved excellent results in recent months and throughout the Christmas peak," said the spokesperson.