BITO has started production of LEO, its driverless internal transport system which does not require an infrastructure or complex installation.
UK managing director Edward Hutchison said: "LEO is an affordable, simple, yet productive robotic intralogistics solution, which is now ready to help e-commerce retailers, manufacturers and other logistics operations gain competitive edge. You can see how at BITO's Experience centre in Nuneaton, which is now operating a demonstration system."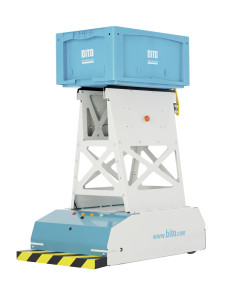 LEO can carry containers and boxes weighing up to 20 kg, with LEO users need only lay out a visible track on the floor for the AGV to follow. Additional special markings ensure the system always knows where it is.
BITO says the visual tracks and markings are easy to change or even completely remove so that new tasks can be set up in no time. LEO's patented transfer concept means it can simply follow the track through a hand-over station, deposit its container and collect the next – all without any electronic aids or complex pneumatics.
It is targeting a range of applications across logistics, manufacturing and retail including connecting two machines, a storage area with a production line or perhaps finished goods back to storage. In a logistics operation it can take bins between order picking stations.
LEO Locative is available with three track options: Leo Flex is a low-cost option suited to temporary situations. A mid-range option is Leo Robust, which allows permanent use in a standard, forklift-free environment, where floors will be cleaned occasionally. For permanent use in tougher environments there is a third option: LEO Ultra. This sustains regular cleanings and works well in areas where forklift trucks also operate.