Culina Group has become the first occupier at the newly opened Port Salford National Import Centre.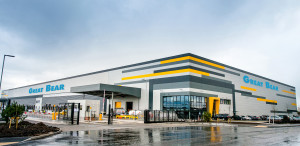 The facility will be branded as Great Bear. It has 45,000 pallet spaces, 30 loading doors, 30,000 sq ft of contract packing and 130 trailer parking spaces, and is set to create 280 jobs in the area.
"Port Salford is a truly cutting edge facility, and one that Culina Group and Great Bear are really proud to be initiating", said Culina CEO Thomas Van Mourik.
"This development is not just changing the dynamics of UK transport and logistics by dramatically improving direct supply chain routes across England and Scotland, but it's also resulting in significant carbon emission reductions and environmental savings.
"Port Salford is taking a revolutionary approach to logistics in the UK and it's our great people who are going the make it a success. These are really exciting times for all of us"
Operations for General Mills, Culina Group's/ Great Bear's client, will begin at the site immediately. The company's brands included Old El Paso, Green Giant, Betty Crocker and Nature Valley – they will be arriving by short sea freight from Europe.
The port is a big investment by Peel Ports; the site is expected to create 1,600,000 sq ft of warehousing.