DAF has targeted light urban distribution applications with a new 3.8 litre engine in a revamped LF 7.5 tonner.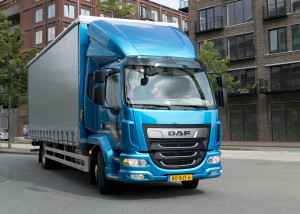 The LF range of 7.5-18 tonne rigids has been brought into line with the new CF and XF ranges which were unveiled at the CV Show earlier this year.
The existing 4.5 litre and 6.7 litre engines will continue to be available, and a new Allison automatic transmission is now available for 18-tonner.
Another addition is an optional lower window in the passenger door to give the driver a better view of cyclists and pedestrians alongside the cab.
DAF is also offering the DAF Connect fleet management system which provides information on vehicle location, fuel consumption, mileage, vehicle utilisation and engine idling in an online dashboard.