A ten-year multi-million-pound partnership for logistics and storage has been launched by Fowler Welch and Dairy Crest. It will take place at Dairy Crest's national distribution centre at Bermuda Park, Nuneaton.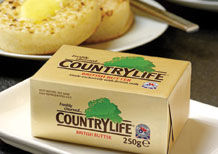 Fowler Welch is also working with the dairy company to 'maximise the capacity of the site as a strategic chilled foods storage and distribution facility for manufacturers and retailers throughout the Midlands'. The site will act as part of the logistics company's 'national network solution, enabling the FMCG supply-chain operator to provide added-value services to manufacturers and growers in the Midlands.'
Some of the distribution centre will still be used for the company's Cathedral City and Country Life brands.
"We have worked with Dairy Crest to develop a unique solution that will allow both companies to maximise the value of the site. It is a clear demonstration of our philosophy of listening, responding and delivering," said Nick Hay, managing director Fowler Welch. "This is a major milestone for us as we will have achieved our strategic goal of having a logistics platform in the Midlands offering manufacturers and growers national reach to all retailers on a shared-user basis."