DB Cargo UK has teamed up with a range of emergency services to simulate a train derailment in a three-day exercise.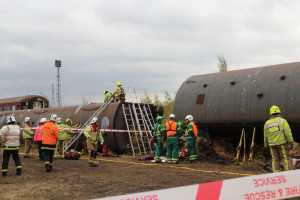 The simulation, which took place at its Healey Mills site in Wakefield, was recreated by West Yorkshire Fire and Rescue Service, Yorkshire Ambulance, Network Rail, Wakefield Council and the British Transport Police. A locomotive and out of service rail carriages were placed on an unused rail rack at the site, one of the carriages was completely overturned.
"The successful delivery of the project has showcased Healey Mills as an ideal location for future training exercises as we can re-create a number of different emergency scenarios," said Dave Jenkinson, DB Cargo UK safety assurance manager, Healey Mills. "West Yorkshire Fire and Rescue Service and the other parties involved were very pleased with the facilities provided and will be using the site again in the future.
"We are proud to be able to provide such invaluable training opportunities at Healey Mills."