Packaging supplier DS Smith is targeting packaging volume reductions and an increased use of recyclable materials as it looks to meet pan-industry sustainability goals.
Sam Jones, sustainability strategy and communications manager at DS Smith, told Logistics Manager: "A significant portion of our customers have their own targets on sustainable packaging, focused on reuse, recyclability and fibre sourcing.
"We're working with them [to provide packaging] that reflects consumer sentiment on the environment and changing shopping habits."
Jones said that DS Smith had worked with retailer Ted Baker to develop a completely recyclable box for e-commerce returns, as it had a target of reusing 20% of its boxes annually. Jones said that Ted Baker had now exceeded that target, with an average reuse rate of 27%.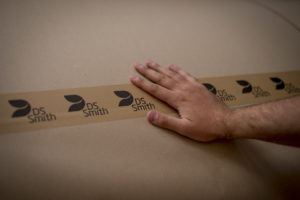 "We have also worked hard to test the quality of papers for recycling arriving at the mill to ensure that quality materials are used in the making of recycled packaging papers," he said.
"This means less waste in the paper making process and helps produce better performing packaging papers – helping to protect products and reduce overall waste."
Jones also explained that as Europe's largest cardboard and paper recycler, operating in 16 countries and managing more than 5 million tonnes of materials every year, its aim was to produce 100% reusable or recyclable packaging by 2025.
"We are well on target, already achieving a net positive recycling position," he said.
Jones also said that the FTSE 100 listed packaging supplier was targeting carbon reductions in its own operations.
"Our approach to achieving our ambitious emissions reduction target is split into two areas – fuel switching and energy efficiency switching," he explained.
"Our UK paper mill, Kemsley, is installing a new Combined Heat-Power (CHP) plant which will save 36,000 tonnes of carbon dioxide per annum and is in the process of switching to a third-party heat supplier which will save 62,000t of CO2e per annum."
---
Click here to subscribe to the print edition of Logistics Manager