Profit from e-fulfilment and returns management was up by almost 50 per cent at Clipper Logistics last year on sales that were up over 60 per cent.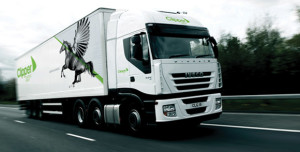 Adjusted EBIT for the e-fulfilment business was £8.1 million for the year to 30th April 2016, compared to £5.5m the year before. Revenue was £97.6m.
In the non-e-fulfilment business, sales were up 6.1 per cent to £108.4m and adjusted EBIT was up 6.4 per cent at £10.7m.
Chairman Steve Parkin said: "The group has seen a strong performance throughout the year under review, with a number of high-profile contracts starting, including those with M&Co, Zara, Haddad, and Pep&Co.
During the year Clipper signed two ten year leases in Northampton, one for 342,000 sq ft for exclusive use by Zara and one for 304,000 sq ft for a shared use facility with John Lewis as the anchor tenant. The John Lewis facility combines the service offerings of both Clipper and Servicecare.
Parkin said: "We are particularly excited about the prospects for our new dedicated next day Click and Collect solution, developed in collaboration with John Lewis. This is a service designed to address the rapidly growing need for retailers to offer an effective next day service to store for orders placed online. After an initial trial period involving 115 Waitrose stores, the service will be extended to the whole Waitrose estate in late summer 2016, and we are in advanced discussions with a number of other retailers who wish to use the service."
Clipper also has a commercial vehicles division which saw adjusted EBIT rise to 21 per cent to £2.3m on sales up 16 per cent to £85.6m.
Overall, Clipper increased adjusted EBIT by 14 per cent to £14.5 million for the year, on turnover up 23.7 per cent to £290.3m.
Looking ahead, the group said: "Since the year end we have won new contracts within both e-fulfilment & returns management services and non e-fulfilment logistics, both in the UK and Europe, through our focus on our retail specialisms and provision of cost-effective, value-added solutions."
It said these contract wins would more than compensate for contract losses with Ted Baker and Hobbycraft.
The group said that it did not anticipate any immediate impact on its business from the UK referendum decision to exit the European Union. "We believe our business model, whereby the majority of our contracts are on an open-book or minimum volume basis, coupled with fuel price escalators in our other contracts, means we will be able to mitigate the effect of short term economic uncertainty. We will continue to monitor and react accordingly to the development of the new trading environment as the details of the exit process become clearer."