Ekol Logistics is expanding its fleet with the acquisition of 150 new Mercedes-Benz Actros trucks worth €12 million. The models are 1842 LsnRL Euro VI Lowliners with OM 471 diesel engines.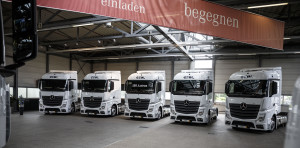 "The Mercedes-Benz Actros trucks are fuel-efficient and reliable," said Ahmet Musul, chairman of Ekol Group. "They are our number one choice in terms of eco-friendliness and performance. Cost benefits are characteristic core values of the green logistics that Ekol has championed for many years now."
The purchase was made by the Romanian subsidiary of Ekol.