Cover story: Going full circle
As businesses and consumers become more environmentally aware, packaging manufactures and retailers have had to respond accordingly.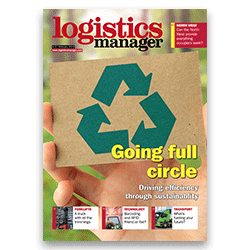 Brexit: Stockpiling: vote of confidence?
With Brexit right on our doorsteps and May's deal kicked to the curb many businesses are feeling vulnerable.
Forklift trucks: A truck with all the trimmings
Nowadays a straightforward truck just doesn't cut the mustard – customers want materials handling with all the trimmings.
Technology: ID – friend or foe?
Barcoding and RFID can be traced back decades, yet many businesses are still in the infant stages of their identification offering.
Commercial vehicles: What's fuelling your future?
Commercial vehicles are a necessity in the supply chain and they too must evolve to support changing industry and consumer demands.
Round table: The perfect storm
We asked a panel of supply chain professionals how they prepare for Black Friday.
Big Sheds: Deal of the year – What's yours?
Deals of the year, what this means for occupiers and what will the uncertainty Brexit bring?
North West: Wild wild North West
Can the Northwest offer logistics occupiers everything that they seek?
---
Click here to subscribe to the print edition of Logistics Manager