Commercial catering group First Choice plans to move into a 100,000 sq ft building at the Kingswood Lakeside Employment Park in Cannock.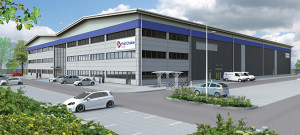 The new headquarters building will include warehouse space as well as offices and commercial kitchens for training purposes.
First Choice director John Whitehouse said: "We have been established for 16 years now and First Choice has become a familiar name in both the commercial catering industry and the local area. The business has seen double digit growth every year, moving to larger and larger premises in the process and it's still expanding.
"The firm is outgrowing its current headquarters on Swaffield Park and is intending to move to a new 3 storey premises and warehouse, built on the newly finished second phase of the Kingswood Employment Park in early 2017."
The site is next to the M6 and M6 Toll road, which means that delegates attending events and training at First Choice can easily access the site via a major road link and the new site will offer ample parking spaces for visitors.