The first ever UK to China export train has departed from DP World London Gateway to make the 7,500 mile, three-week-long journey to Yiwu in the Zhe Jiang province in eastern China.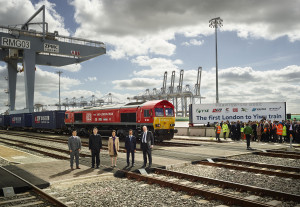 Products on board the container train include soft drinks, vitamins, pharmaceuticals and baby products.
After passing through the channel tunnel into France and Belgium, the DB Cargo locomotive will call in Duisburg, Germany before InterRail pull the cargo through Poland, Belarus, Russia and Kazahkstan before the train crosses to Yiwu, China.
Container operator OneTwoThree Logistics is overseeing the transport and booking of cargo for the UK/China rail freight trains, in conjunction with Yiwu Timex Industrial Investments Co., which is running the service with China Railway Container.
The service is part of China's One Belt, One Road programme – reviving the ancient Silk Road trading routes to the West.
It is just three months ago that the first ever import train from China arrived in the UK.
Rail service providers argue that the overland route is cheaper and less restrictive than air freight and faster than sea freight.
Xubin Feng, chairman, Yiwu Timex Industrial Investment Co, said: "Restoring the ancient Silk Road as a means by which China, North Europe and now the UK can exchange goods is an important and exciting initiative. This is the first export train and just the start of a regular direct service between the UK and China. We have great faith in the UK as an export nation and rail provides an excellent alternative for moving large volumes of goods over long distances faster."
Ms Liming Liang, vice governor of the Zhejiang province, joined Rupert Soames, the prime minister's business ambassador for infrastructure and transport, DP World Group chairman and chief executive, Sultan Ahmed Bin Sulayem, the Mayor of Yiwu, Mr Shi Wenzhen, and Xubin Feng joined other Chinese and UK regional and local government delegates, customers and staff to see the train depart on Monday, 10th April.
Sultan Ahmed Bin Sulayem said: "We look forward to enabling and facilitating more trade between the UK, China and the whole world."
Kerry Logistics has also been involved in the project. Group managing director William Ma said: "We are extremely excited to be the first Asia-based global 3PL to move eastbound freight from Europe along the One Belt One Road trade route, turning part of the roadmap into reality."
* Davies Turner says it has had a strong response from the market for its fixed-day, weekly rail service for LCL cargoes to the UK from the Chinese rail terminals of Wuhan and Hefei. The transit time from Hefei to the UK is 23 days and from Wuhan, 21 days.
Philip Stephenson, chairman of Davies Turner said: "The big selling point is that the cost is around 70 per cent less than shipping the cargo by air and 16 days quicker than getting it to destination by sea."