Geek+ is providing robotics solutions for Nike's new distribution centre in Chiba, Japan. 
Geek+ is deploying more than 200 robots in the facility, from its goods-to-person P series line. 
The robots carry packages and other items directly to workers in the facility.
Warehouses globally are still mainly manually operated, however, a need for automation and new robotic technologies is growing in order to meet the demand brought by the surging growth of online platforms.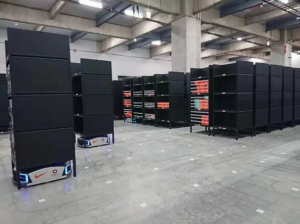 Geek+ has completed over 200 projects across four continents, deploying more than 10,000 robots.
Founded in 2015, Geek+ has over 800 employees and is headquartered in Beijing, with offices in Hong Kong, Japan, Germany and the USA.

Catch Geek+ at IntraLogistex – the UK's only intralogistics show in 2020, which takes place on the 31st March and 1st April 2020 at the Ricoh Arena, Coventry.
Register your interest now at www.intralogistex.co.uk