Gist has signed up as the UK launch customer for Michelin's EFFITRAILER programme – rolling out the technology across 58 of its tri-axle Gray & Adams double decker trailers.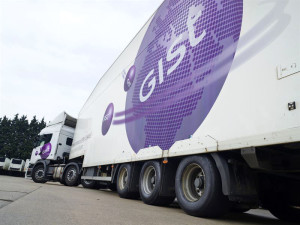 After being trialled in a 27 trailer pilot project, the logistics company decided to use the programme for its long distance trunking routes.
The programme focuses on the installation of trailer telematics equipment – it includes an on-board datalink, a tyre pressure monitoring system and electronic braking system (EBS) data analysis. As well as this, the equipment enables 'constant geolocation' of any EFFITRAILER optimised asset in a fleet.
"During the pilot, which started in February 2015 and ends with this new contract, the EFFITRAILER system helped us prevent anywhere up to five trailer tyre-related incidents a week on the test trailers," said Gist engineering director Sam de Beaux. "If we prevent just five incidents a month on the 58 double-deckers the system will pay for itself within two years, based on engineering cost savings such as tyre fitter call-out costs and replacement tyres – that is without considering the impact on our customers due to breakdown delays.
"Michelin has underwritten these savings on the trailers to be fitted."
De Beaux added that the predictive capability of the technology means that an email can be sent to the owning depot of a trailer when tyre pressures are outside of the 'green' set points.