Goods moved by road freight grows by 12pc
The amount of goods moved by UK road freight last year grew by 12 per cent to 152 billion tonne kilometres, according to a Department for Transport report.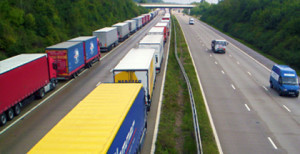 The report also found that the amount of goods lifted rose by 11 per cent to 1.65 billion tonnes. The distance travelled increased by 9 per cent to 18.4 billion kilometres.
FTA's head of national and regional policy Christopher Snelling said: "HGV use was already incredibly efficient, as being able to fill vehicles as much as possible is key to making a profit or keeping costs low. But as people and businesses across the UK demand more, the industry has continued to find increasingly efficient ways of meeting this need. HGV use has become almost a fifth more efficient just since 2004."