Forklift manufacturer Hyster has adapted one of its 40 tonne lift capacity Hyster H40XM-12 forklift's to 'meet the challenges of a tough stevedoring application.'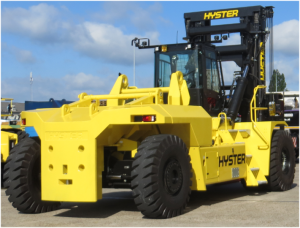 The stevedoring customer had cranes on the quayside with a maximum capacity of 50 tonnes, and needed a 40 tonne lift capacity forklift truck to operate inside the ships as they came in to be unloaded, said Chris van der Werdt, commercial manager for Hyster Big Trucks.
The forklift company has developed a solution that enables the 10 tonne counterweight to be easily removed in one lift and transferred onto a ship. The lift of the truck follows, as does the replacement of the counterweight.
"The challenge was that the truck itself has a service weight of over 58 tonnes which is too heavy for their crane to lift from the quayside," said van der Werdt. "This two part truck has a unique four-point locking system on the counterweight which automatically unlocks when the counterweight is lifted
"The system enables the customer to make use of their existing cranes and helps to ensure weighty cargo can be lifted and moved with efficiency and ease."