Turnover fell 11.6% at IAG Cargo in the first quarter of 2020 as the air cargo market faced "unprecedented challenges".
For the period from January 1 to March 31, 2020 turnover fell to €246 million (£214.8 million) while sold tonnes were down 14.9% and cargo-tonne kms volumes were down 15.7% while capacity declined 13.8%.
Lynne Embleton, CEO at IAG Cargo, said: "IAG Cargo felt the impact of the Covid-19 pandemic early. The expected dip in activity around Chinese New Year was followed by a prolonged drop in manufacturing which continued throughout February and March as the coronavirus outbreak took hold."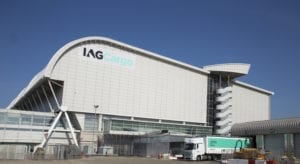 Learn more on Logistics Manager
Air cargo capacity crunch threat to e-commerce
E-commerce retailer THG launches air cargo operation
IAG Cargo moves 1,000 tonnes of medical equipment and supplies
This, said Embleton, saw its Asia Pacific and Middle East business affected the most with a 19.2% decline in turnover compared to the same period last year.
"The majority of air cargo arrives into Europe in the bellyhold of passenger aircraft," she said. "When large numbers of passenger flights were suspended, IAG Cargo took immediate steps to provide creative solutions for our customers. We adapted quickly and we were one of the first airline groups to announce scheduled cargo-only flights using passenger aircraft. In doing so we have kept routes around the world open to cargo."
Embleton said that IAG Cargo had been quick to establish and communicate charter opportunities so it could offer customers and governments further capacity.
"The first quarter of 2020 has posed unprecedented challenges – for the air cargo industry, for businesses, and for society at large," she said. "It has called for adaptability, resilience and co-operation. The essential role that IAG Cargo performs; maintaining vital supply chains and supporting global trade has never been so visible or more evident."