Intelligrated, the automated material handling solutions provider, has launched IntelliGen – software designed specifically for robotic palletising operations.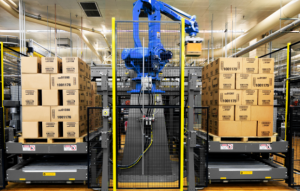 The software is designed to handle a variety of product types and sizes, allowing operators to adjust load patterns and stacking characteristics based on changing product dimensions and other variables, offering improved flexibility, speed and load integrity.
The IntelliGen software comes integrated with the robotic cell's standard control system and allows staff to select user-defined load configurations, simplifying product changeovers.
The software also provides the capability to adjust load configurations, patterns and product sizes without the need to make a service call or leverage complex external software programs.
"As SKU proliferation and packaging evolution continue, managing the product variability in palletising operations demands simplicity," said Matt Wicks, vice president, product development, manufacturing systems.
"IntelliGen simplifies the process of updating the robotic palletizing cell with the necessary flexibility to support a wider range of products while maintaining load quality at high rates."