International logistics company Arcese has introduced a 6.5-tonne IVECO Daily Natural Power chassis cab light commercial vehicle powered by compressed natural gas into its UK fleet, enabling it to make unrestricted deliveries in central London and reduce its environmental impact.
The Daily Natural Power's engine produces 12 per cent fewer NOx emissions, 76 per cent less particulate matter and up to 95 per cent less CO2 emissions when using bio-methane, which also makes total cost of ownership lower than diesel.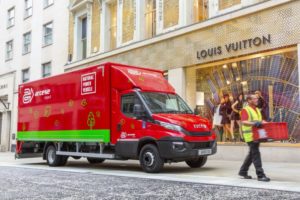 The vehicle features a purpose-built 3.0-litre natural gas spark ignition. It has 136 ph. and up to 350 Nm of torque between 1,500 and 2,730 rev/min which is comparable to diesel its counterparts. The vehicle 50 per cent quieter than diesel, making it ideal for early morning and night deliveries.
Most of Arcese's journeys end up in London's Ultra-Low Emission Zone (ULEZ), which comes into force next year, said Arcese UK county manager Michele Nascetti: "we needed a manufacturer which could quickly supply gas-powered vehicles that already meet current and future emission standards."
"Our group's strategy has always been focused on reducing emissions and that's why we keep introducing alternative-fuel vehicles," said Nascetti. "We're confident this addition to our UK fleet will play a key role for the next decade."