The January 2017 edition of Logistics Manager is now out online. It is also available on iPad and Android.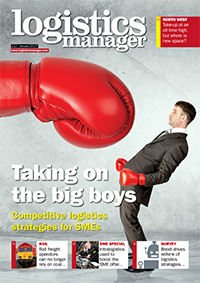 Punching their weight
Small-scale businesses can pack a big punch – but daunting pressures can hold them back. We explore the challenges faced by SMEs when competing against their larger counterparts.
You can't rely on old king coal
Declining traditional markets and structural changes in the rail industry mean that rail freight operators must come to terms with a new business environment. Malory Davies looks at the challenges ahead.
Brexit vote drives rethink of logistics plans
The latest Logistic Manager Trends Survey shows how Britain's decision to leave the EU has affected company thinking – as well as the way robotics technology is set to revolutionise many operations.
Stuck like glue
Black Friday hit the UK with a tumultuous bang back in 2014. But now it looks like it's here to stay. Alexandra Leonards takes an in-depth look at the ever-transforming shopping event, and the ways in which retailers are approaching its new challenges.
Intralogistics to boost the SME offer
Deciding on the right intralogistics solution can be a challenge for small and medium companies looking to balance cost, efficiency and flexibility.
It was going so well…
With take up at an all time high and new space slow in coming forward what is the outlook for the North West? Liza Helps reports….
---
Click here to subscribe to the print edition of Logistics Manager