The Kion Group has completed its $3.25 million acquisition of automation specialist Dematic in a move designed to position the group to tap into the growth potential of Industry 4.0, digitalisation and e-commerce.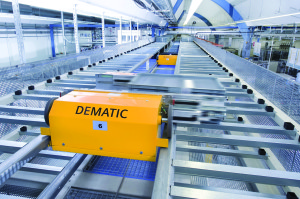 Gordon Riske, chief executive officer of Kion, said: "The transaction brings together the world's most profitable manufacturer of forklift trucks and warehouse technology with one of the largest and fastest-growing warehouse automation and software solutions providers. Our combined global presence, intelligent and tailored material handling as well as comprehensive automation and software technology solutions, plus now more than 30,000 dedicated and highly skilled employees will enable us to deliver even more value for our customers."
The new Dematic operating unit will be led by John Baysore, previously CEO of Dematic North America, who will hold the role of president and chief executive officer.
Baysore said: "The market for system solutions is expected to grow by around 10 per cent per year in the medium term. We have the innovative technology, software expertise and global network to meet the supply chain requirements of the future, such as those resulting from the rapidly growing e-commerce sector and the many other vertical markets we serve."
Jeff Moss will take on the newly created role of executive vice president international to head Dematic's international business outside North America, which will be a key focus for expansion.
The new management team will also include Frank Herzog, previously the Kion Group's head of corporate finance, in the role of executive vice president finance and chief financial officer. Business in North America will be the responsibility of Scott Watts, who has been appointed executive vice president North America.
Riske expressed his gratitude to the departing CEO of Dematic, Ulf Henriksson: "We are grateful to Ulf for his hard work helping build Dematic to where it is today, and thank him for leading a smooth closing process over the last several months."
As a result of the transaction, Kion will start managing its business and reporting financials by three segments in December 2016: Industrial Trucks and Services, Supply Chain Solutions and Corporate Services.
The Industrial Trucks and Services segment consists of four operating units: Linde Material Handling EMEA and STILL EMEA, which each concentrate on Europe, the Middle East and Africa, plus Kion APAC and Kion Americas, which hold cross-brand responsibility for the Asia-Pacific region and the Americas, respectively.
The Supply Chain Solutions segment comprises Dematic, Egemin Automation and Retrotech.
Corporate Services includes headquarter functions and group wide services such as internal logistics and IT.