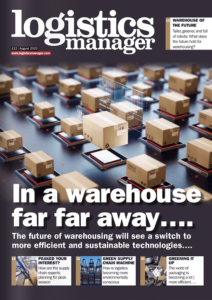 The August 2022 edition of Logistics Manager magazine is now available to read online!
Cover story; Warehouse of the future; Tall stories
Taller, greener, costlier, and full of robots: the warehouse of the future will look very different as Malory Davies finds out…. 
Inside innovations; peak planning; Have I peaked your interest?
Michelle Mooney evaluates the pitfalls of a busy peak period and how to overcome it
Inside innovations; Sustainable logistics; Green supply chain machine
With consumer buying habits changing to reflect a more conscious world, Michelle Mooney  asks how supply chains are transforming to be more sustainable….
Inside innovations; Packaging; Greening it up
Re-thinking packaging production and taking responsibility for environmental impacts could be as important as reducing, re-using, and recycling, Johanna Parsons says
Property special; Mid box; In from the cold
Liza Helps Discusses why mid sized properties are more popular than ever before