Truck maker MAN is to start of production of its first van next April. The TGE, a 3-tonne van will be built alongside the Volkswagen Crafter at Wrzesnia, Poland.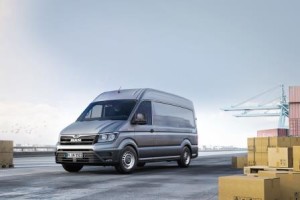 It is mainly focusing on the logistics and construction sector, but industry-specific requirements from the skilled trades and passenger transport are also future areas of application for the lightweight "truck".
The company plans to launch the new van in Germany, Austria, Switzerland and the Netherlands in June. Additional countries in Europe will take delivery of the new MAN in autumn.
The entry-level MAN TGE starts at 3.0 tonnes with the upper end of the range being 5.5 tonnes. The company says it will have the lowest fuel consumption in its class and low repair and maintenance costs to give the best total cost of ownership.
The maximum payload provided by the 3.5 tonne vehicle is up to 1.5 tonnes of cargo. There are two wheelbases, three roof heights and three vehicle lengths up to 7.4m.
Depending on the permitted total weight, there is a choice between front-wheel drive, rear-wheel drive and all-wheel drive, all of which can be coupled with either a 6 gear manual transmission or an 8 gear automatic transmission.
The TGE uses the 2 litre diesel engine that debuted last year in the Volkswagen Transporter. It can be specified in a range of outputs from 102hp to 177hp.
The arrival of the TGE gives MAN a full range of commercial vehicles between 3 tonnes and 44 tonnes for the first time.