Mediterranean Shipping Company (MSC) is committing vessel support for Peel Ports' berthing and marine trials at Liverpool2. The trials started last week with MV MSC Nederland – there will be a number of cargo handling tests taking place throughout July and August of this year.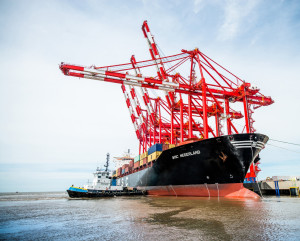 Alongside the 3,007 TEU MV MSC Nederland, four other vessels will be included in the trials: 2,668 TEU MV MSC Santhya, 2,768 TEU MV MSC Koroni, 4,340 TEU MV MSC Sandra and 4,355 TEU MV MSC Alyssa.
"This is yet another major milestone for the project and we're delighted to have the involvement of MSC in the initial marine commissioning and berthing trials at Liverpool2," said David Huck, Port Director. "Although the terminal has really been taking shape in recent months, seeing a container vessel alongside for the first time really brings home how much the team at Peel Ports has achieved."
The vessels are operating on the two MSC services that call at Liverpool –the North West Continent feeder service, which carries containerised cargo between Liverpool worldwide locations via Antwerp and Le Havre, and the Montreal express service which links Liverpool and NWC ports with the Canadian port.
Kelvin Wilden, operations director of MSC UK, said: "MSC has supported the Port of Liverpool for over 15 years and we're very pleased to make our vessels available for the final commissioning stages of Liverpool2. The port is integral to us being able to offer our customers the widest port network of any line in the UK. We're all very excited to be at the heart of the process over the coming months."
Liverpool2 will have a phased opening during the summer; the first landside phase is expected to be operational by autumn.