Molan, the supplier of multiwall polycarbonate, has taken eleven new vehicles on contract hire from Ryder.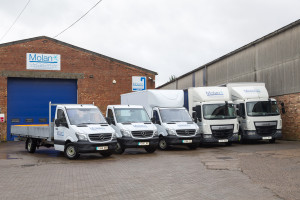 The vehicles include nine Mercedes-Benz vans, and two DAF trucks.
The Mercedes Sprinter delivery is replacing an Iveco fleet, and is made up of seven 3.5 tonne box vans, one long-bodied 3.5-tonne dropside, plus a 5-tonne dropside downplated to 3.5-tonne. The two DAF vehicles are curtainsided trucks, one is 7.5-tonne and the other is 12-tonne.
"The Mercedes Sprinters have replaced our Iveco fleet which had reached the end of its operational life," said Wayne Lawson, operations director at Molan. "The vans, along with the two new DAF curtainsiders Ryder is supplying, provide substantially, lower operating costs, and the reliability we require to ensure our delivery schedules are maintained. Ryder provides us with fixed operating costs, which means our transport costs stay in budget."