Visitors to IMHX were given previews of Toyota's new BT Reflex reach trucks as well as the new BT Levio powered pallet truck.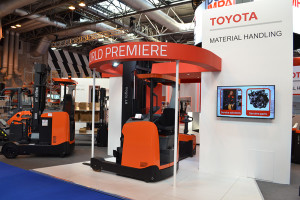 The BT Reflex R, E and O-series (standard, tilting cab and multifunction) will have increased all-round visibility, and will be able to lift heavier loads to even higher heights with increased speed thanks to new mast technology.
The BT Levio LWE130 is the entry-level powered pallet truck and has new features designed to optimise energy efficiency, driveability and user-friendliness.
The TAE050, an automated guided cart, was also launched at the event. It is designed to replace repetitive work, and can be used in two ways: to carry light loads up to 140kg on bolt-on racking, or tow heavier loads up to 500kg. It's easy to install the vehicle: customers can just put magnetic tape on the floor according to the desired route with markers to command the truck.
Toyota also had a hydrogen fuel cell truck on show. It said it is suitable for operations where 40 trucks or more are in operation owning to the infrastructure requirement. It also had lithium ion powered trucks on display.
TCM launched a new high level order picker, the EOH125, with a 1250kgs capacity. It has a 5.9 kW AC drive motor and a beefy 11 kW AC lift motor. It also comes with electric power steering, S3-stability support system and heavy duty Vulkollan drive wheel.