Pentalver has started rebranding its intermodal terminals and trucks with a new logo following its acquisition by Genesee & Wyoming in May.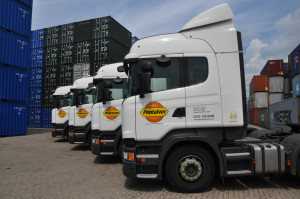 The branding is based on G&W's original orange and yellow logo created American designer Milton Glaser, who also created the "I Love NY" logo.
Pentalver has intermodal container terminals at Felixstowe, Southampton, London Gateway and Tilbury, as well as a Midlands terminal at Cannock. It also has a fleet of more than 150 trucks and vans.
G&W also acquired rail freight operator Freightliner in 2015. So far this has maintained its existing green and yellow branding.