DB Cargo and Cemex have opened a pop-up rail depot to serve the North West construction market and reduce the number of lorries transporting materials from the picturesque High Peak countryside.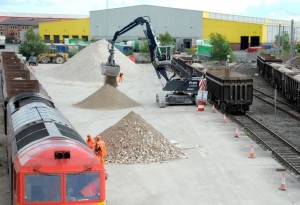 The pop-up site, based in Warrington, Cheshire, will handle around 125,000 tonnes of aggregates each year.
The aggregates are transported from Dove Holes Quarry in Derbyshire on two weekly rail services, with each train carrying approximately 1,540 tonnes of aggregates. Up to 150 lorries would be needed to carry this by road.
DB Cargo UK is also responsible for unloading the aggregates at Warrington, where they are later transported to local concrete plants and construction sites by road.
Mark Grimshaw-Smith, head of Cemex rail and sea, said: "A pop-up rail depot can be installed in weeks rather than months and gives the flexibility to move aggregates from quarries to areas where they are needed, especially in the short term. So with the right piece of land close to the rail network you can create a depot."