Ryder has begun deliveries of more than 120 new vehicles to Safetykleen which provides parts washing equipment and waste services to the rail, automotive, aerospace and aggregates and construction sectors.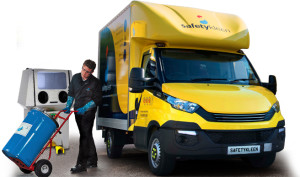 The new contract required Ryder to purchase 127 assets from Safetykleen's incumbent lease providers and lease them back to Safetykleen, and take over the fleet management and maintenance of those assets.
Safetykleen's fleet ranges from Daf XF tractors through to 18t and 15t rigids, Iveco Daily 7.2 tonners and 3.5t vans.
Andrew Homes, purchasing director of Safetykleen, said: "The tender and negotiation process with Ryder helped us to review exactly what service we required. It became clear that our key requirement was to have our vehicles on the road with as little downtime as possible to service our customers. There was also added value in working with Ryder in that we were able to review our fleet specification and ensure it was fit for purpose."