Seegrid has launched a new self-driving vision guided pallet truck called the GP8 Series 6.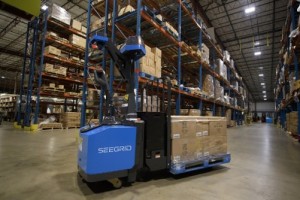 The truck is able to pick up and drop off palletised goods without human interaction.
"The GP8 Series 6 closes the automation loop by providing an end-to-end solution, removing the need for human assistance to complete tasks," said Jeff Christensen, vice president of product with Seegrid.
"In manufacturing and e-commerce environments, every human touch is costly and unpredictable. As we help our customers develop smart factories of the future, safety, efficiency, and operating costs will continue to be the driving forces behind the adoption of automation. Loading and unloading pallets independently creates safer working conditions, allows for more consistent throughput, and produces a rapid return on investment for our customers."